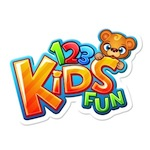 Privacy Policy

123 Kids Fun Puzzle Blue (Android version)
We do not collect personally identifiable information.

We do not collect personally identifiable information about you. In other words, we do not collect information such as your name, address, phone number or email address.
We do not knowingly contact or collect personal information from children under 13. If you believe we have inadvertently collected such information, please contact us so we can promptly obtain parental consent or remove the information.
We do not store or share your precise location.
We do not use or collect your precise geographic location.
We don't share your personal information with marketers.
We do not share personally identifiable information (such as name, address, email or phone) with other companies for marketing purposes.
Ad companies collect anonymous data.
Ad companies may use and collect anonymous data about your interests to customize content and advertising here and in other sites and applications. Interest and location data may be linked to your device, but is not linked to your identity. Click to see company privacy policies and opt-out choices:
Tapjoy
"For app developers, our turnkey advertising platform delivers cost-effective, high-value new users and helps their apps make money, while our vast advertising network lets mobile advertisers reach a global audience on more than 20,000 applications. Since our founding in 2007, our mobile advertising and publishing platform has touched more than 500 million mobile users."
Full Privacy Policy: http://info.tapjoy.com/about-tapjoy/privacy-policy/
No in-app purchases
There are no in-app purchases in our application.
No push notifications
There are no push notifications in our application.
No Internet connection required
Application do not require an internet connection to work. However, the application contains links to external sites that require an internet connection.
External sites:
123 Kids Fun Apps - Link to our website - Full Privacy Policy: http://123kidsfun.com/privacy-policy.html
Facebook - Link to our fanpage on Facebook - Full Privacy Policy: https://www.facebook.com/about/privacy
Twitter - Link to our profile on Twitter - Full Privacy Policy: https://twitter.com/privacy
Google Play - Link to rating our app in the Google Play - Full Privacy Policy: http://www.google.com/intl/us/policies/privacy/
You can ask privacy questions.
If you have any questions or concerns about our privacy policies, please contact us: contact@123kidsfun.com
You can review more privacy-related information.
This privacy policy was last updated on [09.12.2013]. Our privacy policy may change from time to time. If we make any material changes to our policies, we will place them on our website or application.