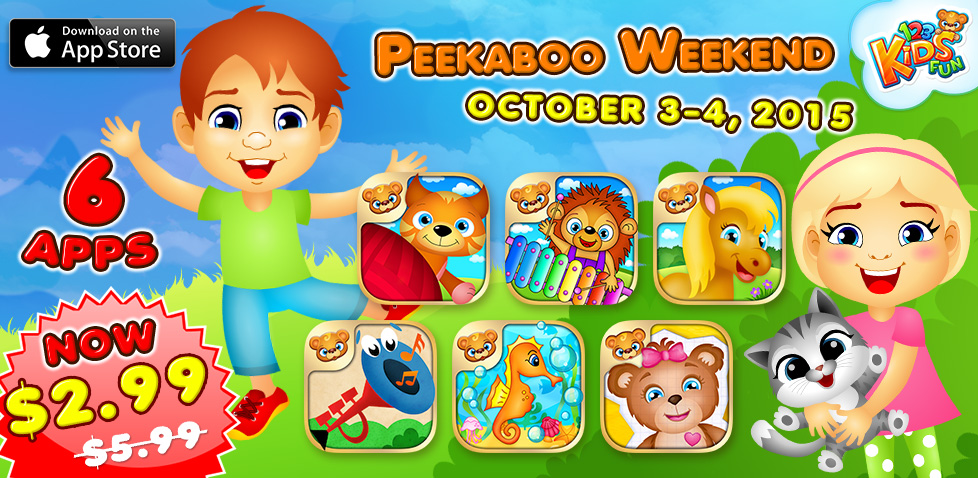 Who doesn't like saving money??? This promo is for you! You get 6 top apps for your kid in best price $2,99!
Join us this weekend!
The bundle features six basic skills apps for Preschool & Kindergarten Kids.
• 123 Kids Fun BABY TUNES
• 123 Kids Fun MUSIC
• 123 Kids Fun PEEKABOO
• 123 Kids Fun PAPER PUZZLE
• 123 Kids Fun FLASHCARDS
• 123 Kids Fun BUBBLES
Note: If you're purchasing the bundle and already have apps from the bundle purchased separately in the past, previously purchased apps will be refunded automatically.
123 Kids Fun BABY TUNES
Our application, filled with delightful animations and sounds of animals, toys, appliances and the gadgets we see and use in our everyday lives, teach these words to children. A music and sound application for children ages 1 to 3 years old. Welcome to a unique world full of sights, sounds and animations.
123 Kids Fun MUSIC
This simple and intuitive app has 25 different instruments to explore and have fun with including:an interactive Xylophone, Drums, Guitars, Trumpets, Flutes, bells, and many many more!
123 Kids Fun PEEKABOO
Thanks to our app your child will discover step by step the world of sounds that correspond to characters and items. Younger kids will be overjoyed discovering hidden animals, insects and vehicles. Older kids can try to guess what hides behind the sounds, then learn the name of each animal, insect and vehicle which will help them with their letter recognition skills.
123 Kids Fun PAPER PUZZLE
Accompanied by English descriptions and awesome background music, illustrations and sounds, watch your child become amazed and delighted with our fun and easy to use app.
123 Kids Fun FLASHCARDS
Flashcards with great sounds and animations in many categories: Furniture, Insects, Fruits, Vehicles, Cutlery and Dishes, Clothes, Vegetables, Animals, Bathroom. In this app you will also find four 22-level quizzes and a score board to help keep track of your child's progress.
123 Kids Fun BUBBLES
Your task is to hit the bubbles before they disappear from the screen. 123 Kids Fun Bubbles consists of four colorful boards to choose from.