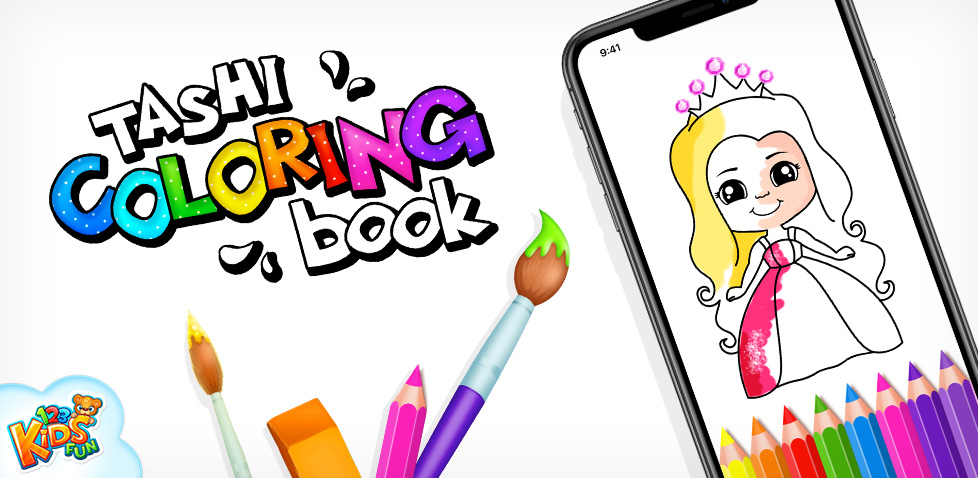 Tashi Coloring Book – Free Game for Kids.
What Coloring Books should I choose for my child?
The illustrations should be adjusted to kid's age. We recommend all above proven applications. Our app is certainly the best educational entertainment for kids. In detail, there is lots of various illustrations. Check them and show your children, they surely will be ecstatic! In this game you will find a lot of pictures, pencils, brushes, glitter and stickers. Additionally, our app is reviewed by experts in preschool and school education. This is the game with unlimited possibilities for girls and for boys! There are plenty of pictures to choose from. Girls can paint pictures with princesses or unicorns and boys can paint coloring pages with dinosaurs, car and many others.
This is the best option to spend free time for preschoolers. These type of books are very important for their proper development in their early years. Thanks to this amusement toddlers  learn to focus and write. It is awesome because they support making progress in preschoolers education. For example:
Fine Motor Skills – How to Improve those ?
One of many advantages of painting is development of fine motor skills. What are those? Fine motor skills include the use of the smallest muscles of each palm. Activities such as using pencils assist the child's fine motor skills. What things can you do at home to help improve your kid's fine motor skills? First of all try to color together! To clarify: you can find an application or printed illustration. You can find printable pictures on our website.
Toddlers learn new things at all times. They need new things that will help them understand how the world works. This activity is a great opportunity to discover something new. Every crayon have different color! How amazing! During the process of drawing they have the opportunity to learn the names of all. Our new game has many shades of different colors.
Preschoolers have occasion to develop their creativity. They decide what will be the final result of their work. The effect often depends on quality of crayons. Poor colored pencils can discourage youth from using them. They do not like breakable pencils. In this case a good solution may be application like Tashi Coloring Book. The youth uses their fingers so that enhance the palm muscles.
Hand-eye coordination is the ability of the vision system that put together hand moves with your sight to perform different moves. Coloring Pages improves this ability in pre – school age. Hand-eye coordination is very important because it is necessary in performing everyday activities.
You can also check our Free Printable Coloring Pages for Kids.