Free Printable Masquerade Masks Template for Kids.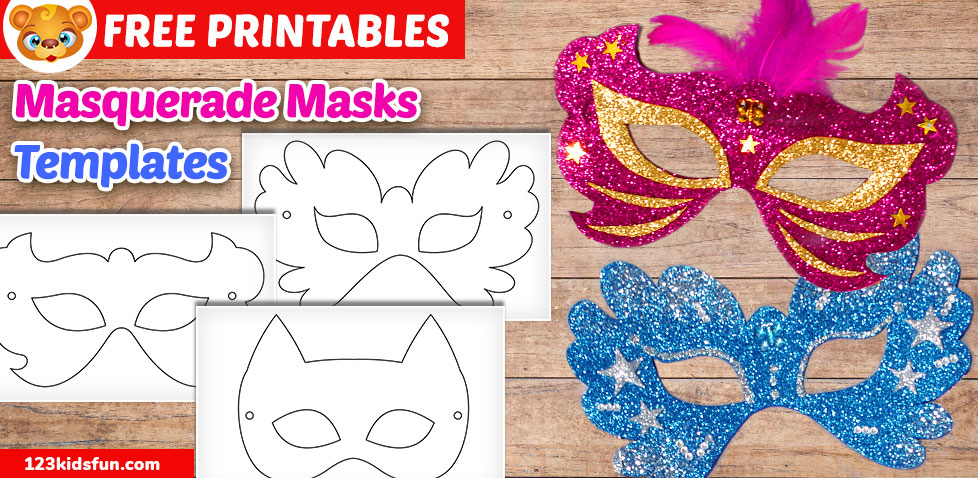 Mardi Gras Masks with Free Printable.

Printable Mask Template for Kids.
Kids Crafts: Masquerade Masks Template for Kids.
How to make Mardi Gras Mask with Free Template.
How to make Superhero Mask with Free Template.

Free Printable Animals Masks.
Free Animals Printable Coloring Masks.
Free Printable Masquerade Masks Template for Kids
Do you have plans to throw a Masquerade party?
Masquerade parties are in a position to introduce mystery and excitement to any occasion. The word Masquerade comes from a French Word named Mask. As you already know, all the people who participate in a Masquerade party will have to wear Masquerade masks.
Any person in today's world will be able to host a Masquerade party as well. With adequate preparation and planning, there is a high possibility for you to receive effective results out of the party. In fact, you will be able to have a successful Masquerade party without spending a fortune.
How Masquerade masks come into play
When throwing a Masquerade party, the first thing that comes to your mind is Masquerade masks. The task of creating Masquerade masks can be given to your children. It is something that they can do. The task of creating a Mardi Gras mask will not help you to keep your little one engaged for quite some time, but you will also be able to allow your child to develop the fine motor skills. Hence, there is a high possibility for you to let your child go through a productive experience.
Use templates
Designing Masquerade masks is not something difficult as well. When it comes to designing, you have two different options to consider about. Either you can design the mask on your own, or else you will be able to use a mask template. Out of these two options, using a mask template is the best option available to consider.
That's because everything in the mask template is pre-designed and you just need to focus on printing it. You will be able to get printable masks, which can be very convenient. This will help you save a lot of time, especially when making a large number of masks.
Take a look at 123 Kids Fun
If you are looking for a Masquerade mask for kids or adults, you need to get your hands on the right templates. That's where you will be able to take a look at the collection of Masquerade masks that are available for sale on 123 Kids Fun. A large number of mask templates are available in the website for you to consider. Out of these templates, none are colored. Therefore, you can provide your child with the task of coloring the masks. By using appropriate colors, there is a high possibility to personalize the Masquerade mask according to specific requirements as well.
All the Masquerade masks available on the website are available in printable format. You can go through the available designs and get the best one to your child.
Conclusion
The best Masquerade masks are in a position to take the Masquerade party to the next level. It can create a perfect vibe at the event as well. Therefore, you are strongly encouraged to think about getting your hands on the best Masquerade masks available out there in the market. You can simply download the templates and ask your kids to color them and use to avoid hassle with getting them.