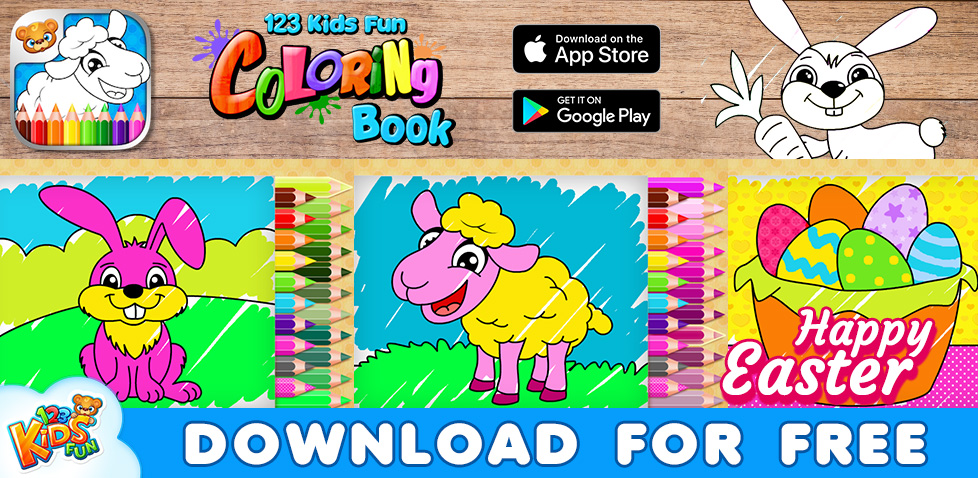 123 Kids Fun Coloring Book Free Game for Kids.
123 Kids Fun Coloring Book is Free Game for Kids for Easter. This is certainly the best activity for Easter fun. Educational Draw Game is application for real little artists. 
Coloring Book contains lots of illustrations for kids. In game are pictures which your kids will love. For example Easter pictures: Easter Bunnies, Easter Sheep, Chick and Easter Basket. Other Coloring Pages are also contain animals, vehicles and many more. This Free game – Coloring Book will give your children a lot of fun for Easter. We are sure that our game will accompany your kids in Easter Time.
Our coloring pages provide impressive images for kids to paint and color. Make your children happy with 60 drawing pages. 20 crayons of different shades, brushes and special effects will give every child hours of great fun!
Coloring book is game where the only limitation is kids imagination! Let your child to go in the amazing world of fantasy. This game obviously helps kids develop eye-hand coordination and concentration skills. Additionally, this activity for Kids for Easter time is effective learning tool. In detail, our pictures will help your child develop creativity. Coloring Book is undoubtedly the most interesting educational game for toddlers and preschoolers. Try to color the Easter basket with your child. Tell your child about Easter traditions while coloring an Easter bunny, do you know that Easter chicks are a symbol of new life? Tell your child about it. Having fun together is the best opportunity to talk. 
Have an egg-cellent and bunny-tastic Easter! Celebrate this day with peace and love. Have a blessed and holy Easter, enjoy your Easter!
If you're experiencing difficulties with audio, please check the audio settings with your device to see if your device is muted. Don't hesitate to contact customer care at contact@123kidsfun.com 
You can also check our Free Easter Coloring Pages for Kids.