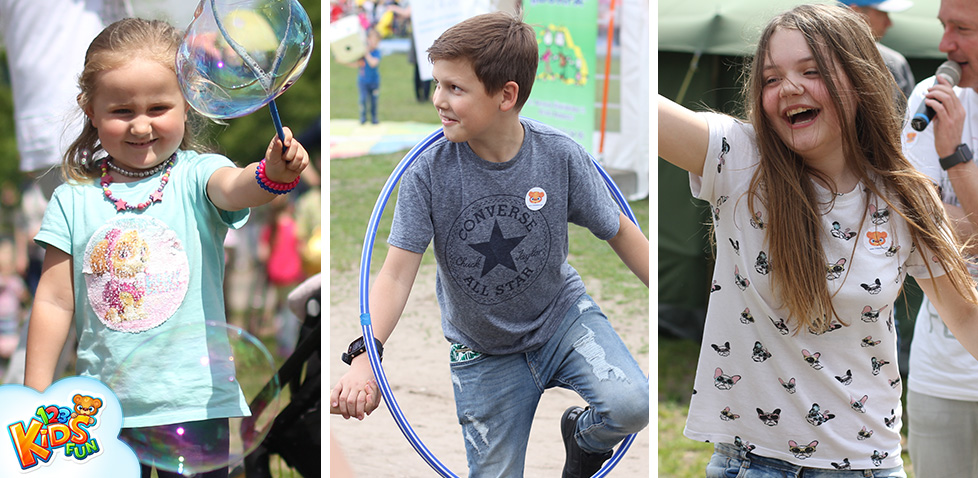 Family Picnic
On May 18, 2019 we had the opportunity to enjoy great fun during the "Stay together" family festival. The festival took place at Różopole Glade in Myślęcinek, Bydgoszcz. Children had the opportunity to take advantage of many different attractions there. The organizers of the festival were Caritas of the Bydgoszcz Diocese and the City of Bydgoszcz.
  
Among many attractions children could also find 123 Kids Fun tent. It has been fun all the time there. The children could not part with the attractions prepared by us. Glitter tattoos were the most popular. Each child could choose the pattern that expressed them in the best way. There were many people willing to have colorful decorations.  
The 123 Kids Fun station attracted huge soap bubbles. It was a lot of fun. Preschoolers had a great time trying to catch and pierce as many of them as possible. The best part was when everyone could try doing bubbles for themselves. There were also twisted balloons in various shapes waiting for everyone. We inflated quit a few of them. The most popular shapes were flowers, dogs and swords.  
The children could also use our applications. Each of them has been tried. Little guests were happy to choose Coloring Pages, both in digital and traditional versions. The children couldn't resist coloring them not break away from them. Everyone wanted to create the most beautiful and colorful picture.  
In addition, we provided many non-standard physical activities for children. We prepared obstacle racetrack, which were overcome by two teams. The race was won by only one, but all athletes received prizes for participation. In addition, the fun called by us "Hot hula-hop" was also of great interest. There were two winners in this case. These are just few games that we have prepared. Everyone could find something for them, and there were many who were willing to participate in them. There were fantastic prizes for each competitor who participates in the competitions.  
Thank You for the Family Picnic
In conclusion, we would like to thank everyone who got involved in organizing this festival. Above all, we would like to thank Caritas of the Bydgoszcz Diocese and every family who came to Myślęcinek on this beautiful Saturday to have fun with us. We would also like to thank everyone who, using the presence of the Mobile Blood Collection Point, as well as two members of our team, decided to give blood. We always encourage everyone to do this. We hope that each one of you remembers this time.