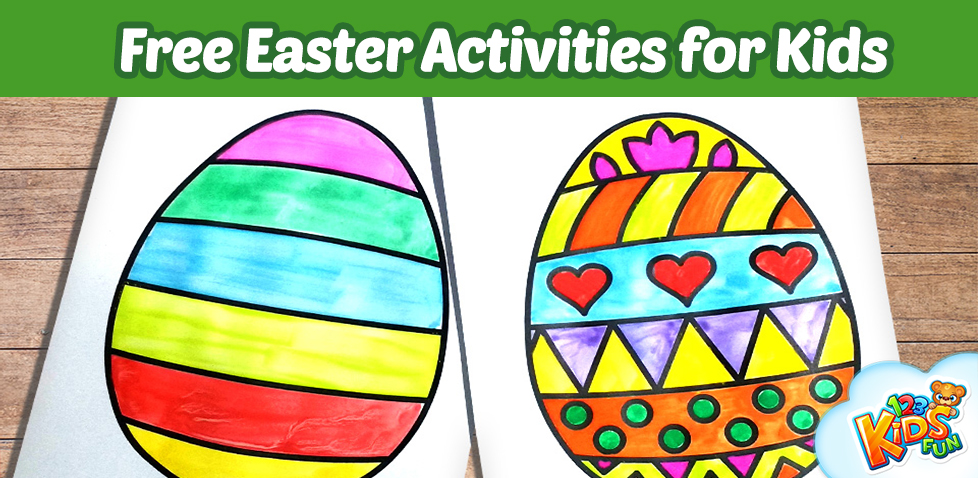 Easter is one of the most awaited holidays. Celebrating Easter involves many rituals that make up the annual tradition. The moments when parents and their kids prepare for the celebration together create the most beautiful memories that will stay with us for years. Check our Free Easter Activities for Kids.
Sending Easter Cards
Sending Christmas cards is a tradition that started in Ancient Egypt. Receiving such a card always makes our faces smile. Make a list of the people you want to send them to and create beautiful, handmade cards for your loved ones. Get glue, glitter, beads, crayons, felt-tip pens and whatever else you want to use to make your Easter Cards. If you need inspiration, 123 Kids Fun recommends Creative Mama's video, which will show you step by step how to create a simple but beautiful Easter Card:
Easter Worksheets
This is a great opportunity for Easter Worksheets and Free Easter Activities for Kids. Learning through play is the best method of getting knowledge, especially now, when children sit for many hours a day in front of the computer screen. Online learning is not good for every child. Many of them get tired of staring at the screen constantly, which makes learning less effective. In this case parents should look for other ways of getting knowledge. The solution can be, for example, Easter worksheets: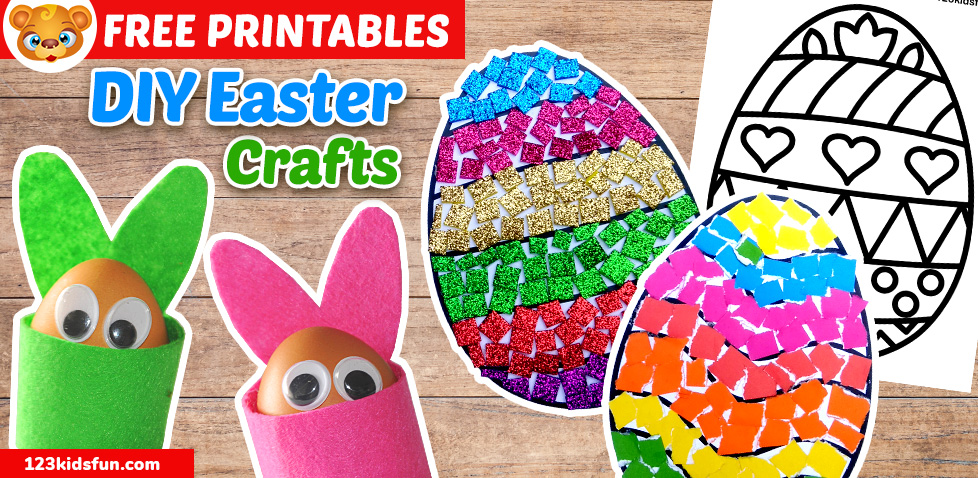 Easter Eggs – Free Easter Activities for Kids
Easter Eggs are a symbol of nature that comes to life. Each Easter Basket should contain at least one colored Easter Egg. There are many ways to make these decorations. Everyone has their own idea for decorating eggs. We offer a slightly different way to create original Easter Eggs. See how to make Eggs decoration!
Easter Baskets
If you have not yet prepared your Easter Basket, then print, cut and glue the template, which is available for free on our website. The 123 Kids Fun Easter Basket looks very attractive because it is printed with a spring pattern. If you want, you can decorate it with additional stickers or other ready-made elements that can be purchased at any stationery store. Next to the basket, you can put paper figures of a chick, a sheep and a bunny, which you can also quickly prepare using our templates.
The Easter Bunny
The Easter Bunny brings gifts to the children – puts them in a basket and hidden somewhere in the house or garden. Make an Easter Bunny to create an Easter atmosphere to your home. Creative Mom suggests making it from a toilet paper roll. Check how you can do it in a very simple way:
This year, Easter will probably be different than usual. We will spend them only with the immediate family. We wish you that Easter will make you forget about the pandemic for a while and feel safe and carefree with your family. Try to remember what you liked most about Easter when you were a child and do your best to ensure that your children also have great memories of this holiday.
Happy Easter!