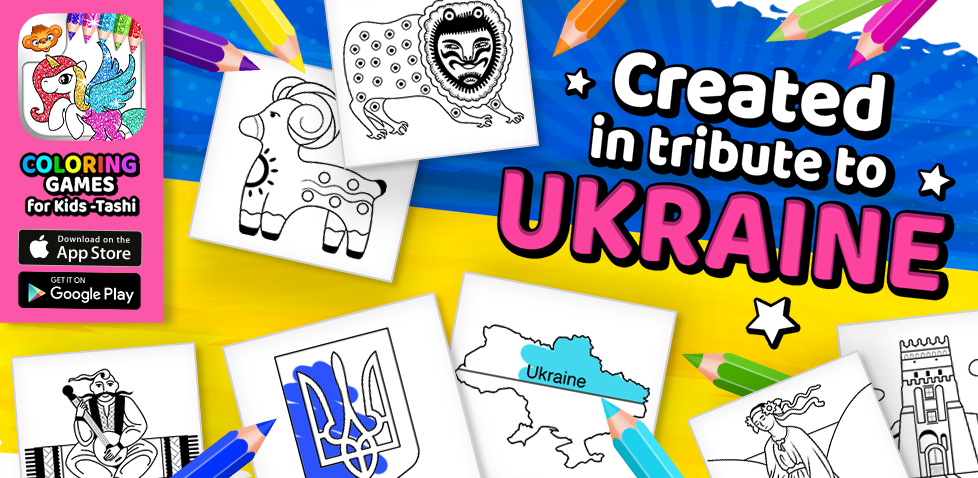 A new set of coloring pages in May. To support Ukraine in the fight for its country, we have created a special set of coloring pages in Coloring Games for Kids – Tashi.
In this new set are pictures referring to Ukrainian culture and traditions. They were all drawn by Sonya from Kiev. You can find there the National Symbols of Ukraine, such as the coat of arms and the picture with the shape of the country. This month's set also includes motifs from famous paintings painted by Ukrainian artists such as Taras Shevchenko and Maria Prymachenko. Taras Shevchenko painted 'Kateryna', in which you can see the main character dressed in a folk costume. One of the pictures also features a figure inspired by her. Maria Prymaczenko is a folk painter who dealt with drawing, embroidery and painting on ceramics. The theme that appears in our Coloring Pages for Kids was inspired by an element of her painting called "The Beast Goes for a Walk".
Many objects in Ukraine are now threatened with destruction. Objects such as Palanok Castle, Lubart's Castle or one of the oldest churches in Kiev – Sophie Kievskaya from the 11th century. These objects are priceless elements of the cultural heritage of Ukraine that make up the Ukrainian national identity. In the new set of Coloring Pages you can also find historical landmarks of the capital of Ukraine, Kiev as Golden Gate in Kyiv and Motherland Monument which is the symbol of invincibility of the Ukraine nation. Download and subscribe Coloring Games for Kids – Tashi. You can also print all pictures!
Ukraine is a free state that deserves independence and a life in peace. Glory to Ukraine – Slava Ukraini!