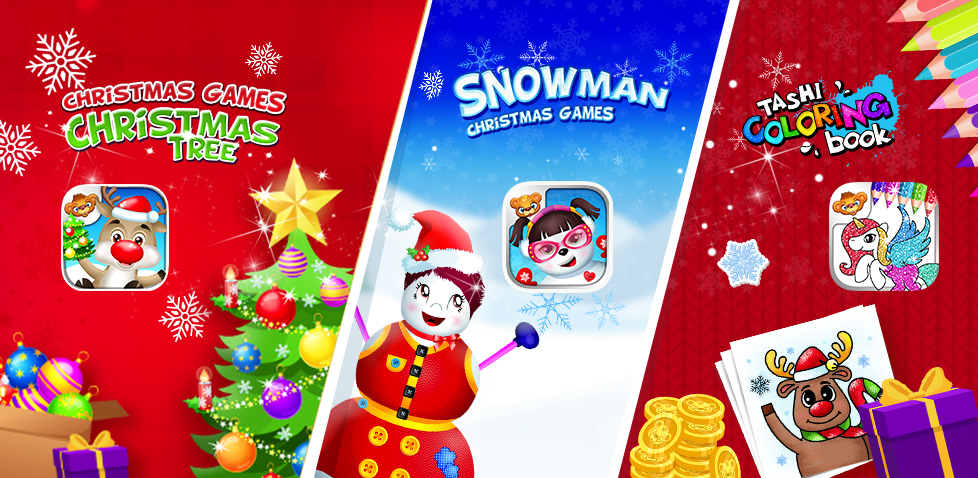 Do you also love Christmas as much as we do? The smell of Christmas Tree, colorful lights, candles, bells and mistletoes … all this makes Christmas so special. But we all agree that the most important part of the holidays are … gifts (especially for kids). That is why we have prepared something completely special for you! In December, a new gift will be waiting for you every day in the Coloring Games for Kids! Every day from December 1 to 24 you will find unique gifts such as: new crayons, Christmas patterns, beautiful stickers, colorful glitters. Collect all the gifts and use them in your new Christmas Coloring Pages!
Coloring Games for Kids – Advent Calendar
This month, every subscriber will get 12 new Christmas Coloring Pages and an extra gift! December is the month of gifts, try to collect them all! Additionally, if you subscribe, you will get over 300 other coloring pages! Coloring Games for Kids has the most color pencil shades in the ranking of all similar games! Download and see how many rewards you can earn this month!


Snowman – Christmas Games
If you like Coloring Games for Kids, check out our other free games. In December, Snowman – Christmas Games for Kids and Christmas Tree are the most popular! The Snowman – Christmas Games is perfect for all children who miss snow. If you don't have snow this year, you can create your own snowman in this game. You can choose from many decorations that will perfectly decorate it.


Christmas Games for Kids – Christmas Tree
The Christmas Tree is a unique game that will allow you to enjoy decorating your Christmas Tree as many times as you like. Choose which tree you like the most and decorate it as beautifully as you can. Additionally, a special prize awaits you every day under the Christmas Tree. Receive gifts every day and create a beautiful Christmas collection.